Blown Double Glazing Glass Replacement - Lichfield
Published: Wednesday 2nd June, 2021
Replacing Blown Windows In Lichfield
Back in September of this year we got a call from a couple in Lichfield inquiring about the cost of repairing their blown double glazing unit after noticing the glass was very cloudy on the inside.
The Stowe's had been dissatisfied with their bedroom windows after moving in years ago. Although they had a nice big view from the bedroom windows over the garden, the windows became cloudy before even living there for one year. They decided that the home would never feel complete without getting condensation removed from inside the glass.
Talking to them on the phone we discovered that Mr & Mrs Stowe were not educated on the functions and processes that double glazing actually offers. But this was soon changing after they learned how fragile their windows can be in winter months if not installed correctly.
The Stowes were open to considering the range of other glass options, and we're pleased that we offer the latest A++ efficiency glass as a free upgrade, as long as they could repair their cloudy windows and enjoy crystal clear views from an efficient home.
Budget was less of a concern, although they had to consider the economical value of paying for new glass and having it stand the test of time – after all, a fresh set of energy efficient windows will pay themselves off after a few years, they're not just a one-off solution.
… As long as they are choosing quality materials from a trusted, local installer.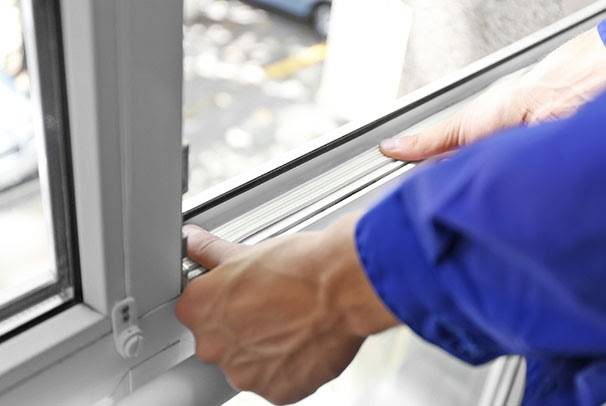 Replacement Glass Lichfield
After replacing the glass and seal, we tried to find the reason for the glazing unit failing to prevent another set of blown windows later down the line.
There are a few reasons glass can become cloudy, it's not always down to age and the common causes are generally as follows:
1. Poor fitting from the previous glass installer, which can be quite common especially if they weren't replaced too far in the past.
2. Wear and tear over time and a total lack of unit maintenance. This could include poor ventilation in the rooms that get steamed up with warm air, such as the utility room or bathroom, and even the bedroom if you have an ensuite like the Stowe's!
3. Their bedroom windows are South facing, which means that there is more chance of the low rising/setting sunlight that causes the glass to contract from the early and late winter months. This stress on the window causes a small gap in the seal where condensation is able to build up inside the unit.
4. There is a good chance it could have been an old unit, to which age would affect the setting of the glass overtime – again causing a gap in the seal, and increased change of damp or mould rotting the seal.

We came to the conclusion that the units did not seem too old and that it's most likely the fact that the glass unit became blown because of poor installation and lack of maintenance. After replacing their blown unit with a new set of A++ Rated Energy Efficient glass panes, a new seal within a UPVC frame, they were very happy with the result!
We recommend that if you own an en-suite like The Stowe's do, you should get a trickle vent installed to reduce the amount of humid air making its way to the cold window surface.
By doing so, and by frequently cleaning the seal, you can reduce the amount of residue building up, less risk of mould growing – and years added to the life of your glass unit.
Fixing cloudy windows is our specialty, we've been replacing glass units for over 30 years – so you can trust our years in the field, honest expert opinions, and outstanding customer reviews.
If you're looking to replace your cloudy, blown windows in Lichfield, don't hesitate to get in touch, and our dedicated team will provide you with a free, no-obligation quote.